Altyn Depe is a major Bronze Age centre (third and second millennia BC) in Turkmenistan, overlooking the Tedzen delta. It lies at the foot of the Köpet Dag, a range of mountains marking the northern border of Iran. The site itself is watered, not by the major river (the Harirud) which feeds the Tedzen delta, but by smaller rivers descending from the mountains. For its general location and context, its position is marked on the far right of image.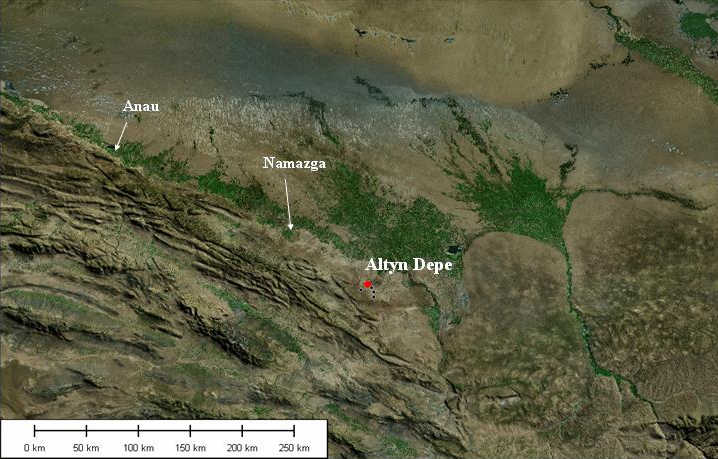 The site occupied a pivotal position at the junction of routes: along the foot of the Köpet Dag, southward to Afghanistan, and eastward via the oasis stepping-stones along what was to become the Silk Road.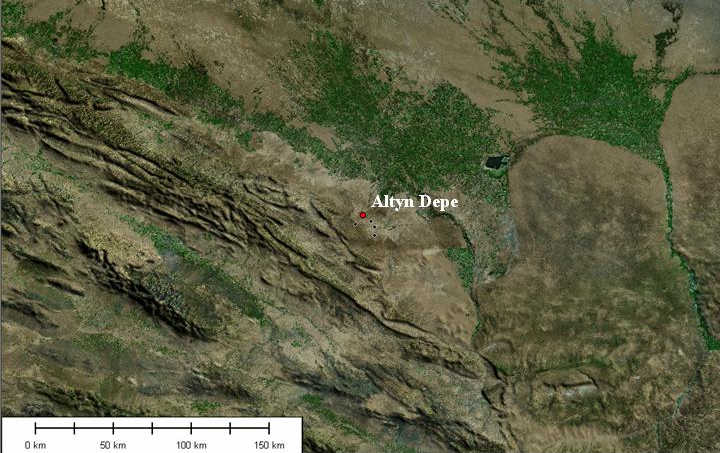 Altyn Depe ('Gold hill') is the largest of a small cluster of settlements in an embayment in from of the mountains, where several streams emerge.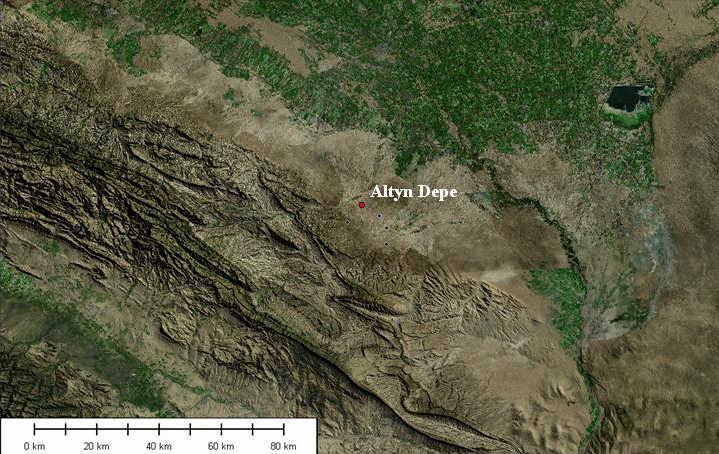 A closer view of Altyn Depe.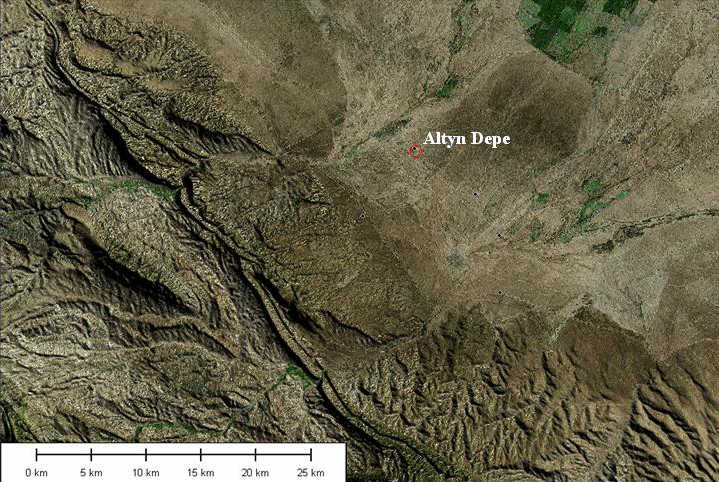 The site is located on flat land some 2 km from the present stream-course. (Other tell sites marked as black dots: see next image.)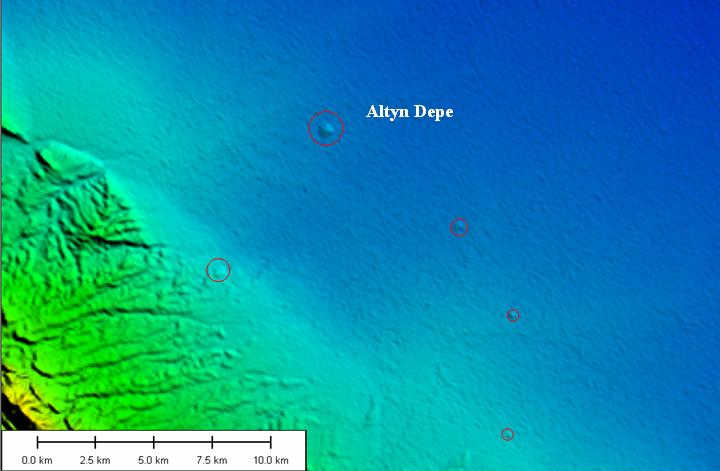 The mounds, are clearly visible on the SRTM 90m terrain model, with Altyn Depe as a major regional centre.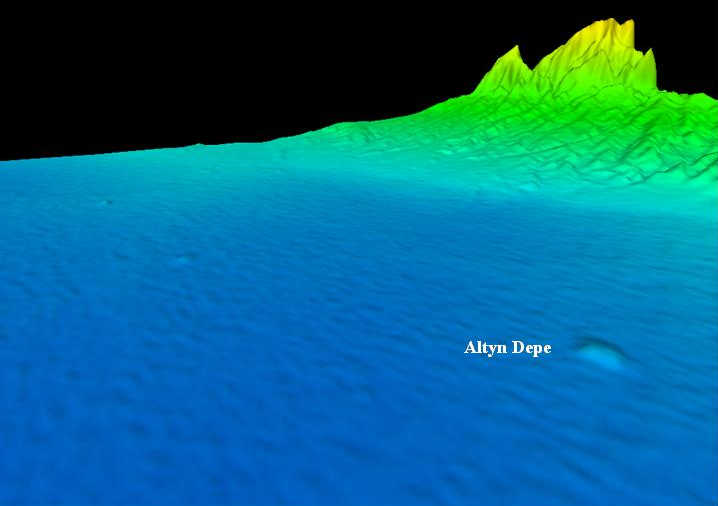 The SRTM terrain data can be used to generate a (slightly exaggerated) 3D view.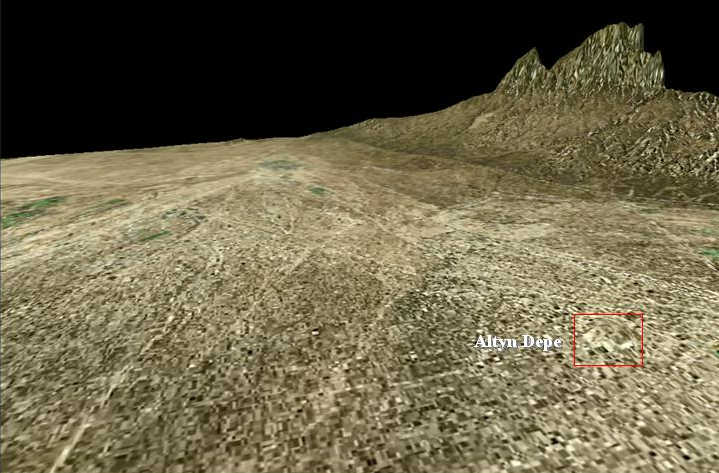 In this view looking south towards the mountains, the Landsat 7 image has been draped over the terrain model. The mound itself, less evident in this view (though it could be made more visible by shadow effects), is boxed in red.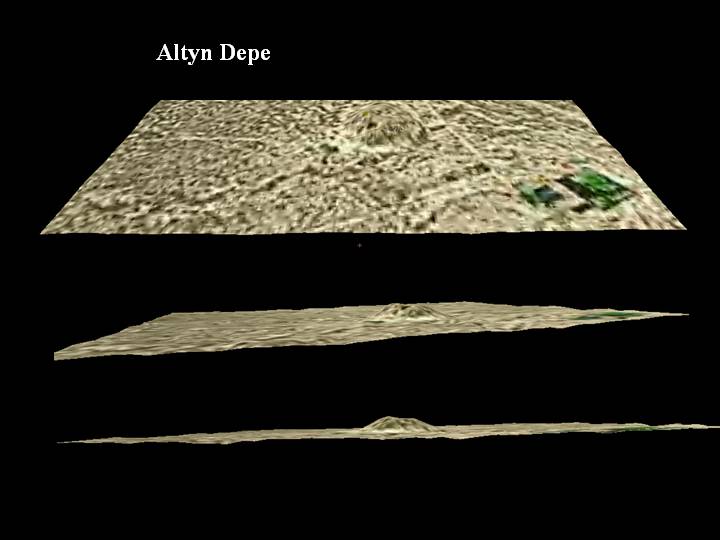 Closer views of the mound, at various angles, show its striking profile above the flat plain.
Referenced sites
| Site Name | Country | Latitude | Longitude | OpenAtlasID |
| --- | --- | --- | --- | --- |
| Altyn Depe | tm | 36.85784 | 60.43232 | tm/altyn_depe |